Please confirm the terms of use that will give you the right to use these photos for research purposes. The photos will be stored in a separate project that only I can access. The photos will not be published on the Lingscape platform!
No login or registration is required.
The Lingscape app has been developed and financed by the University of Luxembourg (refer to https://lingscape.uni.lu/).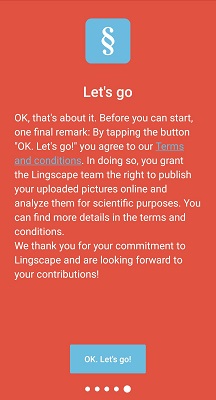 Granting access to location: This way, the photo can be pinned to a specific location on a map. If you prefer not to give your permission, you can enter the location manually instead.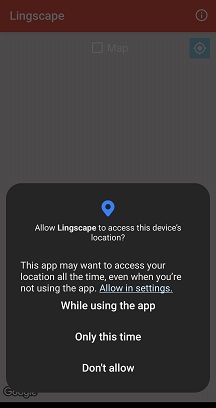 Go to i in the upper right corner and open "Settings".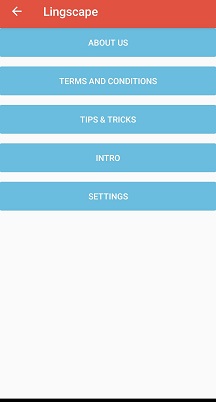 Uploading a photo
Note: Enter the password so your photo will be assigned to my research project.
Password: LLtuda23
In the database, your photo will now be assigned to my research project. Only photos uploaded to my research project will be pinned to and shown on the map.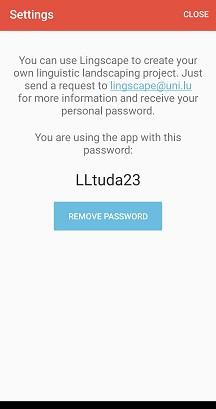 Go to "Add new photo".
Choose the source of your photo:
Camera: Take a photo of the object of your choice and upload it directly (by giving Lingscape permission to take photos).
Library: You can also upload photos afterwards from the mobile phone's memory.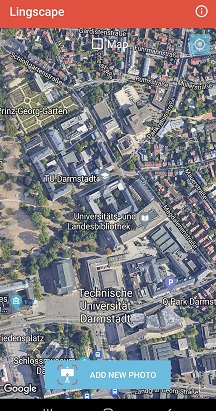 Localisation: Where exactly was this photo taken? Tap the map to pinpoint where you took the photo and confirm "Select this location".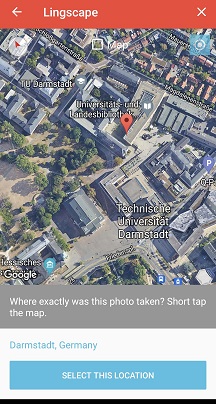 Specifying the language(s): What languages can be seen in the photo?
Go to the Plus (+) symbol and touch the boxes to select the respective languages.
AMB = Ambilinguistic (cannot be assigned to a specific language, e.g., a Germanised word borrowed from another language such as "recycle"/"recyceln")
OTH = Other (language cannot be identified or is not specified in list) – please select this, if you cannot tell what language it is.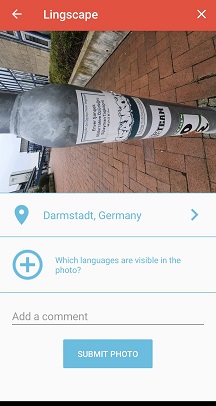 Click on the Tick () symbol in the upper right corner to finalise and save your entries.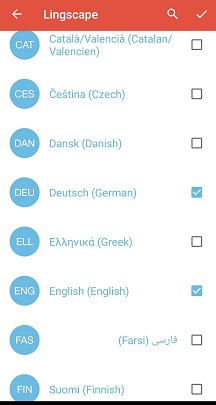 Adding a comment:
I would like to hear your views on the following: What did you notice? What was of interest to you? Why did you take a photo of this object (sign, poster, sticker, etc.)? Is this object located at a special place? What have you noticed regarding the languages selected or their presentation or their translation?
Go to
Upload photo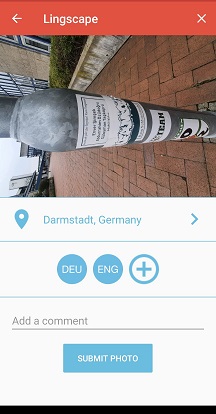 Your uploaded photo will appear on the map of TU Darmstadt after my approval.
The photo will be assigned to my research project and will only be shown within this research project. You can also view the contributions made by others and read their comments.